We thought you might have some questions!
Below are some of our most recently/frequently asked questions about this website and this service. Please note that this run by 100% volunteers and we're learning things as we go. Our main goal is to support our local businesses at this difficult and trying time.
Who can sign up on We're Still Open Hudson Valley?
Any brick and mortar business located within the Hudson Valley region of New York can sign up for a listing on our website.
Is there a cost to sign up?
No. It is free to list your business on this website.
I don't see a category that matches my business.
If you can't find a category on the Sign Up form that fits your business, please contact us to inquire about adding a new category.
I don't see my delivery service listed on the Sign Up form.
If your delivery services doesn't appear as an option on the Sign Up form, please contact us to inquire about adding a new delivery service.
I submitted the form, why do I not see my business?
This website community is run by volunteers. While we will try our best to approve and post your business as soon as possible, we do have a 24-48 response time.
Please note that, with exception, we are currently only listing essential businesses who are open under the New York State on PAUSE Policy. Businesses who are not classified as "essential" will be judged on a case by case basis, such as an online store.
Is Curbside / Takeout / Delivery safe?
You can rest easy knowing that eating your favorite meals in the comfort of your own home shouldn't put you at an elevated risk. Leading experts at the FDA and CDC say there are no known risks or evidence that suggests that COVID-19 can be transmitted by food or food packaging. Here is a link to the CDC and their page that is updated regularly. Here is also a good article from Good Housekeeping about what to do with your delivery / curbside meals to be extra safe.
How can I promote that people can find me here?
We created some graphics that you can share on social media or in email newsletters.
Just Right Click the image you want, and save it to your computer/device.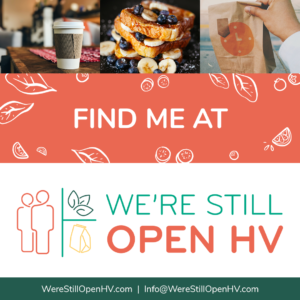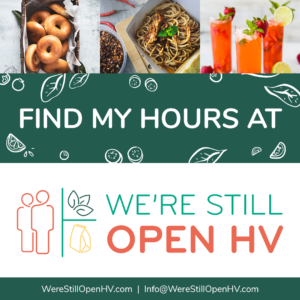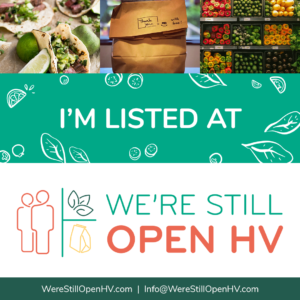 Who can I contact with additional questions?
How do I get involved?
That's wonderful that you clicked this FAQ! Send us an email and let us know what you'd like to do to help us out. We're all volunteers!